What is Workday®?
Workday is a single-source HCM solution for medium-sized and large companies. It's a Software as a Service (SaaS) Enterprise Resource Planning (ERP) management solution. Workday encompasses all key components of HR management, including the key drivers of employee experience, including talent acquisition and learning and development, benefits administration, financial, and HR performance management. The HR department can view the complete picture of an employee's complete health, including financial and HR outcomes. Furthermore, it provides analytics, enabling users to identify employees that require help.
HCM side attained importance primarily, but the company has worked hard and took a long time to accomplish its financial software more competently. Thus became a strong competitor to other ERP systems by combining finance, HR, planning, learning, and payroll, while giving you deep insights into your business and the ability to adapt to change.
Workday offers many software solutions. However, in this article, we will focus on the Workday HCM solution, for medium-sized or large enterprises.
To facilitate a better understanding, we'll define the advantages and disadvantages of deploying Workday HCM and how to get the best out of it when integrated with the YesElf Digital Adoption Platform and explore its unique features and benefits.


The Pros 
The solution is delivered as a Software as a Service (SaaS)

The platform allows you to integrate with business functions and process areas

Works closely with talent acquisition, payroll, benefits administration, and analytics systems, without reinventing the wheel

Supports both traditional and modern employee practices, including full-time, part-time, and temporary employees, plus independent contractors and temporary workers

It's easy to learn Workday as it doesn't require any programming language to start with.

There are many resources on the web on how to use and understand Workday.  (Way too many.)
The Cons
As with all software, it has its own set of issues.
The adoption lifecycle is long and involves a lot of work, especially after it has been delivered. If you have deployed Workday to your organization without detailed measurable training, then you're in trouble.

A complex solution that might not satisfy the needs of your business if it is not used by untrained employees.

The main factor to take into account is whether your enterprise is ready for the new world of technology, new workforce, and value-added services, which it should really be serious about. It is not about the Cloud, it is about reimaging your enterprise in the era of digital transformation. It is also about keeping up with the evolving digital workforce of the future and establishing a modern digital workplace.

Migration to Workday from other  HCM platforms takes a long time and requires specific steps to be taken. 
Benefits of utilizing YesElf Digital Adoption Platform for Workday®
Ensure the ROI of your investment by ensuring it gets used to its fullest potential by all users.  
If you have deployed Workday® recently or are planning to deploy in the near future, we as YesElf Digital Adoption Platform would like to inform you about the challenges you will probably face and what we offer to boost the product adoption to each of your employees individually while saving money and time.
As stated, Workday aims to provide HCM for medium-sized or large enterprises that typically comprise anywhere from a hundred to thousands of employees, typically including all three generations.
Read about: Facilitating Employee Training for all Generations. 
Whenever a change, a digital transformation with this scale is implemented to any sized company, it is without a doubt faced with many difficulties. Not only during the implementation or training but also in production while actively being used and retraining phases which is one of the main defining factors of successful transformation. 
YesElf helps speed up the training and onboarding and hence product adoption processes for Workday® Human Capital Management.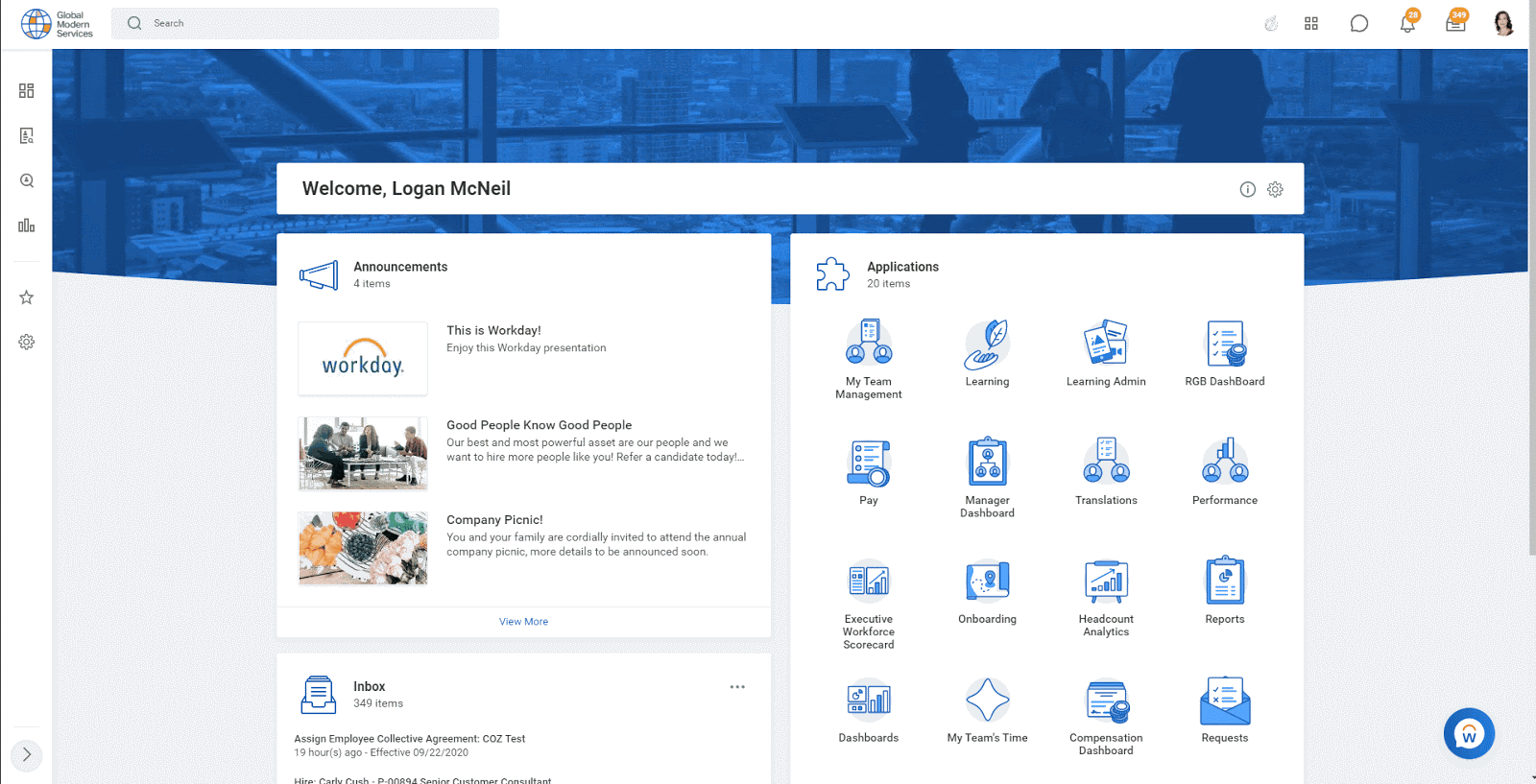 Above, you see a short video of how Yeself guidance can be used to onboard the users by step-by-step bubbles overlaying the Workday main page. These meaningful bubbles would actively guide your users by bringing their attention to a specific part of the page where their input or confirmation needed while blurring the background to create contrast. 
YesElf Digital Adoption Platform can;
Provide powerful reporting and business intelligence to measure the business outcomes of your software investment.
Read about: Business Analytics and Data-Driven Digital Transformation
Hone and refine user experience.

Provide scalable deployment to highly distributed global teams. In this case, the more is more but not robotic. This means you can deploy YesElf on any size company but not all users will see the same guidance. YesElf's AI and ML  technologies can personalize and selectively offer the recommended guidance depending on the user's confusion level, role, or experience. 
Read about: Why should you employ AI in onboarding?
The biggest challenge for any sized corporation that implements a new software solution is

digital adoption

. You can prepare the infrastructure but how do you make sure the users use it correctly?  YesElf's personalized guides walk all the users through the software ensuring the user learns the new software by doing it. It's a hands-on approach to learning, meaning students must interact with their environment in order to adapt and learn, expounded by American philosopher

John Dewey

. Making sure the new software is understood and used correctly in the shortest time by personalizing the step-by-step guidance provided for each employee as opposed to wasting time and money in classical and ineffective training methods. 
Read about: Employees forget 70% of information within 24 hours.   
While software engineers use the full details of the building solution to create a functional and complex structure, it often requires training so all the users can correctly use it. Hence, system integration is often as critical as making the full application itself. Workday provides this training. However, we naturally forget 70% of the fresh information we learn within a day and 90% within a week. This is called the Ebbinghaus forgetting curve. YesElf actively helps you deal with the forgetting curve.

You may find that as your end-users may come from different geographical locations or generations with varying levels of understanding or choices/requirements for training and usage of the Workday. It would be time-consuming for these end-users, inconvenient, and frustrating, trying to figure out how it works. Companies lose valuable time and money in this process. How much money or time can be saved depends on many factors, contact us for a free personalized demonstration

here

. However, from our experience, YesElf would save you %30-50 of your training costs by shortening the time spent in training and increasing the product adoption rate. 
Read about: How Digital Adoption Platform can facilitate employee training of various age groups and generations?
Using machine learning capability YesElf can be trained to be used on any software application, integrated into any web-based or mobile application. You can teach employees how to use enterprise software applications using step-by-step guides or walkthroughs. 

YesElf has an analytics back-end based on big data. It can evaluate user behavior and identify if the user needs guidance before he/she gets frustrated or leaves the application.
To achieve the above goals, YesElf gathers valuable information from the end user's digital footprints and personalizes the guidance provided, which successfully leverages to achieve large-scale digital adoption.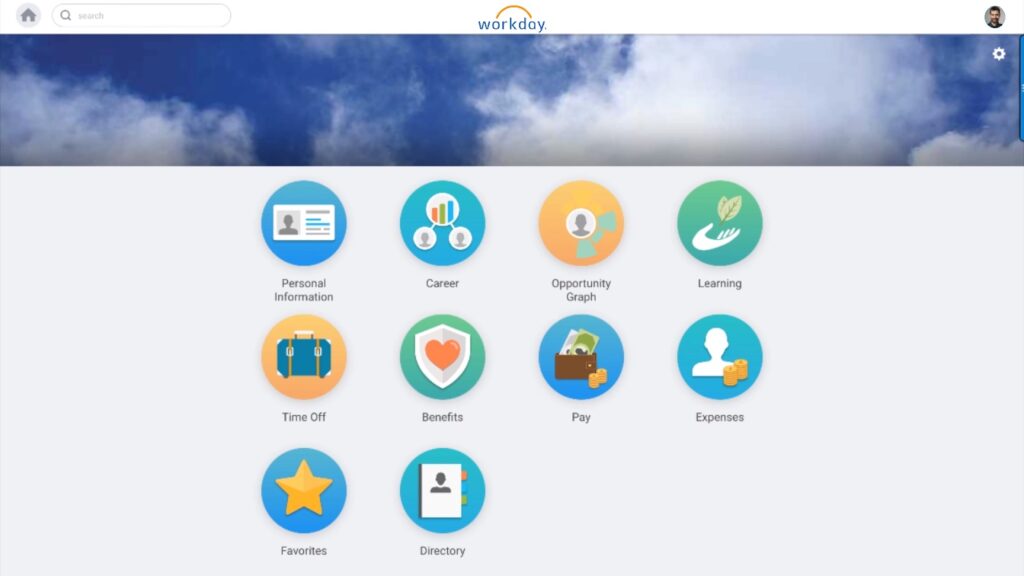 YesElf's integration with Workday allows you to effectively guide each user throughout Workday HCM contextually and individually while providing you Business Application Insights and resolving all the digital adoption problems from many business perspectives. 
In a nutshell, the YesELf Digital Adoption Platform enables you to deliver step by step in-app guidance and contextual support which drives product adoption, boost employee productivity, ease software migration, and provide vital business application insights.
With the help of YesElf, enterprises can do some fantastic things with Workday HCM software, and it does not stop at HR management.
YesElf Digital Adoption Platform is not affiliated with, sponsored, owned, or endorsed by Workday®.