YesElf Digital Adoption Platform Integration with SAP Concur®
What is SAP Concur®?
SAP Concur® falls under the category of Enterprise Resource Planning (ERP) and is one of the world's leading providers of integrated travel, expense, and invoice management solutions. The main solutions SAP Concur offers include:
A Booking Engine for Staff Travel
Expense Management
Analysis/Reports
Invoice Management
Travel Request
SAP Concur aims to fix the tedious tasks of paper-based submission and approval processes. Travel, invoice, spend, etc.
With these great intentions and enhancements while combining multiple platforms into one comprehensive, capable, and complex solution comes with the cost. Training, that is.
To use SAP Concur to the fullest potential, training is necessary, whether for the newbies during the onboarding process or upskilling the existing workforce. Typically, more than once.
This is where YesElf Digital Adoption Platform comes in to help ease the adoption process by providing personalized step-by-step guidance for each employee.
SAP Concur® Challenges
For an international company, on average, every employee travels five times a year, which makes a 30000 travel request for 6000 employees. Traditionally, via claim and reimbursement method of the Travel and Expense (T&E) system requires your employees to use multiple software solutions that all need training/onboarding to which ends up significant time/money investment.
SAP Concur aims to combine these separate processes into one capable of also a complex solution. However, training/onboarding is still an issue, especially more for the current employees who are already accustomed to using old solutions.
Now comes the critical part; introducing the SAP Concur to all the employees and invest in initial training and hope for the best if you do not have the means to measure the adaptation rate.
Read about: Business Analytics and Data-Driven Digital Transformation in Change Management
Another challenge faced is also related to training; a staggering 90% of newly learned information gets forgotten within a week. After the initial training, when your employees have a chance to apply the knowledge, almost all will be forgotten as again if they travel five times a year they will use it once in a couple of months.
And the last challenge would be that even after the transformation and initial training, the employees will make errors, which will either cause financial loss to themselves or to the company and the loss of time.
Let's visualize the same with a case study.
Created Support Tickets: On average, each employee would need help at least once in a year sums up 6000 support tickets/year. This translates into not only the pressure on the HR (if you have an internal support line to them) but also the time which is taken away from work.
Human Error: 6000 employees x 5 times travel=30000 SAP Concur travel reports. This as well increases the likelihood of human-caused errors even after training. Most accounting errors occur because of simple human errors such as data entry, losing receipts, or forgotten, aka unclaimed expenses are human nature to make errors. We are more likely to make more errors when the stress factors present. Such as traveling, coming out of the comfort of the office environment, fear of making an error, which may cause financial loss to the individual, etc.
As making an error is inevitable, you should be prepared to be able to detect the mistakes made and create solutions to minimize the loss of time and/or financial means.
SAP Concur Training: For 6000 employees x 2 sessions of 50 minutes of initial training and 45 minutes on-demand based e-learning= 14500 hours of training/year (1.65 years) (SAP)
Benefits of utilizing YesElf Digital Adoption Platform for SAP Concur®
Initially, the idea of investing in software that will guide the user throughout any web-based application might seem like an unnecessary investment, especially if you have just started using SAP Concur. Here some facts to prove it otherwise:
You would save time and money. Twelve thousand man-hours are spent on the initial training, which the learners will forget when it will be time to apply. It is shown that 90% of the newly learned information will be forgotten in a week.
Read about: the forgetting curve.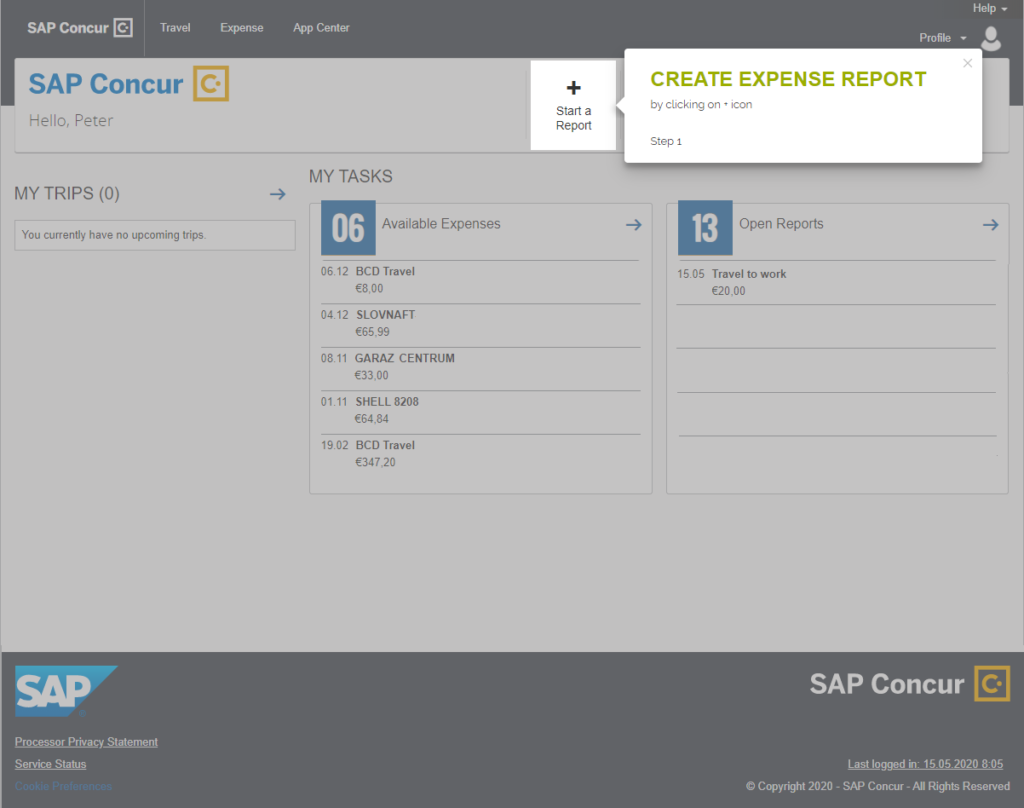 YesElf`s contextual guides navigate the users step-by-step throughout the application process, which reassures users. As in the screenshot above, YesElf creates meaningful bubbles while applying a shadow to the background, which will bring the user's attention to where their action or confirmation is needed. You can set up the guides quickly as they are extremely user friendly as you do not need computer programming skills to do so. Personalized guidance will then be available to the users when and where required, including off office hours.
The goal of the digital adoption platform is to reduce human error and the amount of human intervention needed in all different aspects of an employee's experience while at work. It would ease the risk and burden of everyday tasks being completed by an employee, thereby reducing the possibility of errors.
According to the current YesElf customer reports, there is a reduction of 43% of support ticket creation as YesElf effectively and intuitively solves employees' concerns at the time of need and helps them out wherever they get stuck.
As well as the initial training is provided by SAP which is free of charge and there are other means of self-learning options available. However, it will still cost the company as the time taken away from work.
With the YesElf Digital Adoption Platform, a company with 6000 employees could save €331,776.00 / quarter and €1,327,104.00 / year.
YesElf would then help you deal with employee's resistance to change. Because changing usually requires the employees to come out of their comfort zone and exposes them to the unknown. YesElf would ease the transition phase by making the change easy with personalized guidance and familiarity with the first impression.
You will also get exclusive Business Application Insights and customized reports which will reveal the bottlenecks of your application (not just SAP Concur but also any other corporate application as YesElf would work on any web-based application). Such as;
Where are the bottlenecks of the application – on which screens or on which process the employees are struggling the most?
Where the employees or users are struggling the most and spend their valuable time on?
Which part of the application is the most problematic to them, which creates most of the errors?
In which part of the application are employees confused at most?
YesElf works where the employee is and at the time of need so they can accomplish their tasks.
As in the example above, YesElf would guide each employee from the start until submitting the travel and expense report at the end while making sure all the steps are correctly completed.
In a nutshell, YesElf Digital Adoption Platform guidance would provide you:
30-50% savings training costs and reduces human error as each of your users would be guided until the end, making sure nothing is overlooked, and everything conforms to standard operating procedures.
The time spent away from work either on the training sessions or error correction procedures would be significantly reduced.
And the employees' individual confidence levels would be boosted as they will be assured and guided, which will not only increase employee satisfaction but also reduce turnover rates.
Peace of mind eases the employee's frustration by guiding them every step of the way, which in turn reduces the likelihood of employee turnover. Untrained employees are 37% less productive and 12 times more likely to leave your company.

IBM

In addition to the savings, another advantage of adopting YesElf is the process of tracking and reporting data and reports would be simplified.
As a best practice, YesElf recommends applying the guides first in a pilot group where you can see and compare these fantastic savings with the control group.
Request a personalized version of the YesElf Digital Adoption Platform and test its features for a month not just on SAP Concur but also on any web-based application you have.