What is Salesforce®?
Salesforce is the leading cloud-based American customer relationship management (CRM) platform. It provides CRM management service and other customer-focused applications to help them to streamline their sales and marketing operations with marketing automation, analytics, and application development. Use the tools to connect, manage, analyze, and optimize your company's sales and marketing campaigns.
Salesforce® is used by more than 150,000 companies worldwide with a purpose to gain, retain, and satisfy their customers through effective usage of cloud-based customizable software offerings.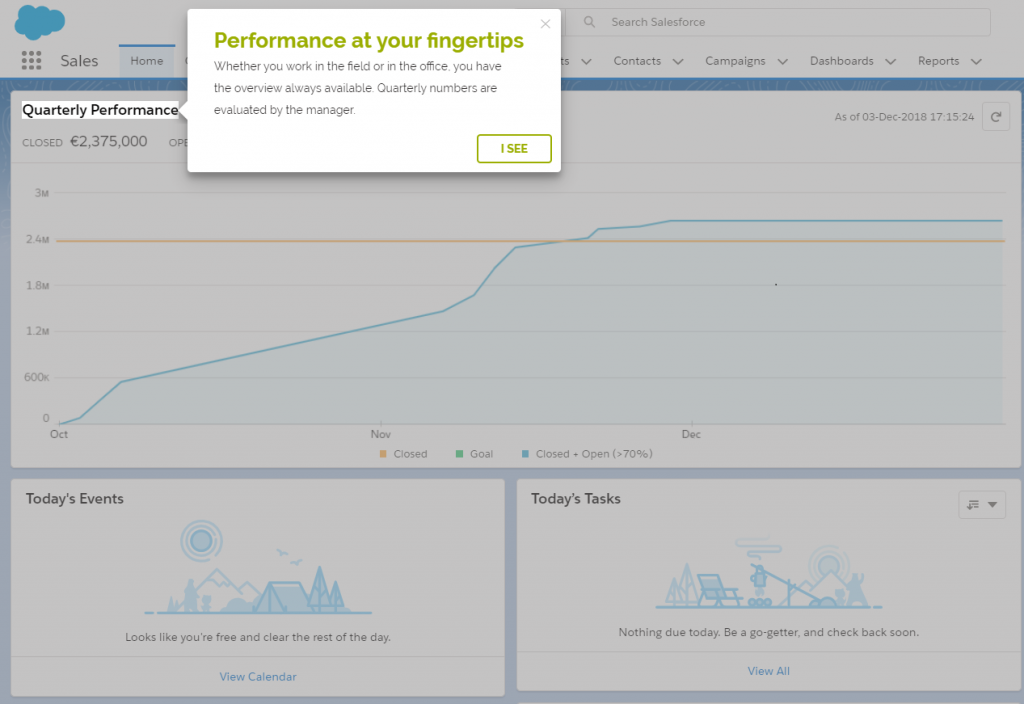 The Benefits
As a cloud-based Software as a Service (SaaS) company, a genuinely online CRM management gained its reputable fifth-largest software company in the world. According to the research, Salesforce is used by more than 88% of Fortune 100 companies.
Fast to deploy. Setting up on-premise CRM applications may take up to a year as opposed to weeks with Salesforce.
Easy to set up, which will give you time to focus on your essential aspects, such as your customers.
(SaaS) means your employees can use it wherever they access the internet.
Wide variety of integration options. Integrates with many 3rd party apps are provided. (but not all so easy to set up read further about the challenges section)
Affordable. It is a fraction of the cost compared to the owning/operation local CRM application.
Understand your customers. It helps you to understand your customer's needs and makes it clear what steps have been taken so far so that you can develop solutions that deliver real value, hence increasing the customer experience/satisfaction.
All customer data in one place. You can track all customer data in one place, saving time while tracking how each user interacts with your application.
Improve lead generation. You can plan, manage, and improve the lead generation by expanding the funnel from visitors to customers.
Collaborate effectively. As all the information is stored in one central place (the cloud), synchronization and effective communication and collaboration are done effectively, so your sales team does not waste time searching for the latest information but focus on what is important, your customers.
The Challenges
Salesforce (like many corporate software) does have its own challenges when it.
The need for adoption of Salesforce® To drive massive growth in the cloud, adoption of Salesforce Adoption Platform has become a crucial factor in any company's success. However, it's tough enough for people to do their jobs, let alone figure out a new CRM system.
Implementation challenges. Implementing CRM (especially in large corporations) is proven to be a major challenge. It can be difficult to plan and execute a successful Salesforce implementation. It needs to be properly defined which business processes and what departments will use Salesforce. If it is not planned or executed by experts, the size of the undertaken job will be revealed very quickly. You've seen plenty of cases where companies have successfully implemented CRM, but you also know plenty of instances when sales teams were unprepared and missed out on huge business opportunities as a result of ineffective implementation.
Measuring and managing user adoption and engagement. Measuring user adoption is complicated and time-consuming, and answering critical questions as such; "who's using our digital innovation?" "What does the adoption curve look like?" isn't easy. 25-45% of new users abandon a product if they fail to get the hang of it in a reasonably short time.
Classroom-based, human-led training is difficult and expensive due to the difficulty of scaling. Mass digital adoption of new technologies can be time-consuming and overwhelming for many enterprises. The costs of human-led training are rising, and learners are often left with unanswered questions. No-shows or human forgetfulness (

up to 70% in 24 hours

) make it even more challenging.
Slow software adoption. Due to the complexity of CRM enterprise software and time and training facility's constraints, the users are pushed to learn/absorb a lot of info in a relatively short period of time. This self-limiting factor significantly reduces the training's effectiveness and causes the adoption to be slow and prolonged.
Due to the complexity of CRM enterprise software and its training facility and time constraints, users are required to learn/absorb a lot of information in a relatively short amount of time. This self-limiting factor significantly reduces the training's effectiveness and delays adoption.
Salesforce will become a revenue-generating product that will help you earn more revenue if it is to be used correctly. The business value you can deliver is far more than just the revenue you can make. To be a successful selling platform, you need to:

To build and sustain profitable business relationships.
To build and sustain a successful sales force.
To build and sustain a productive team.
To train your team and make them productive.
And, more than anything, you need to follow the right business process transformation management.

Data Quality and Troubleshooting is a must. It is impossible to ensure long-term sales success in the absence of a proper strategy to minimize errors in data.
Speed is everything. A wrong code or timestamp might result in a failed launch, and there is no guarantee for triumphant success. The only hope is to train your users and optimally optimize your software implementation.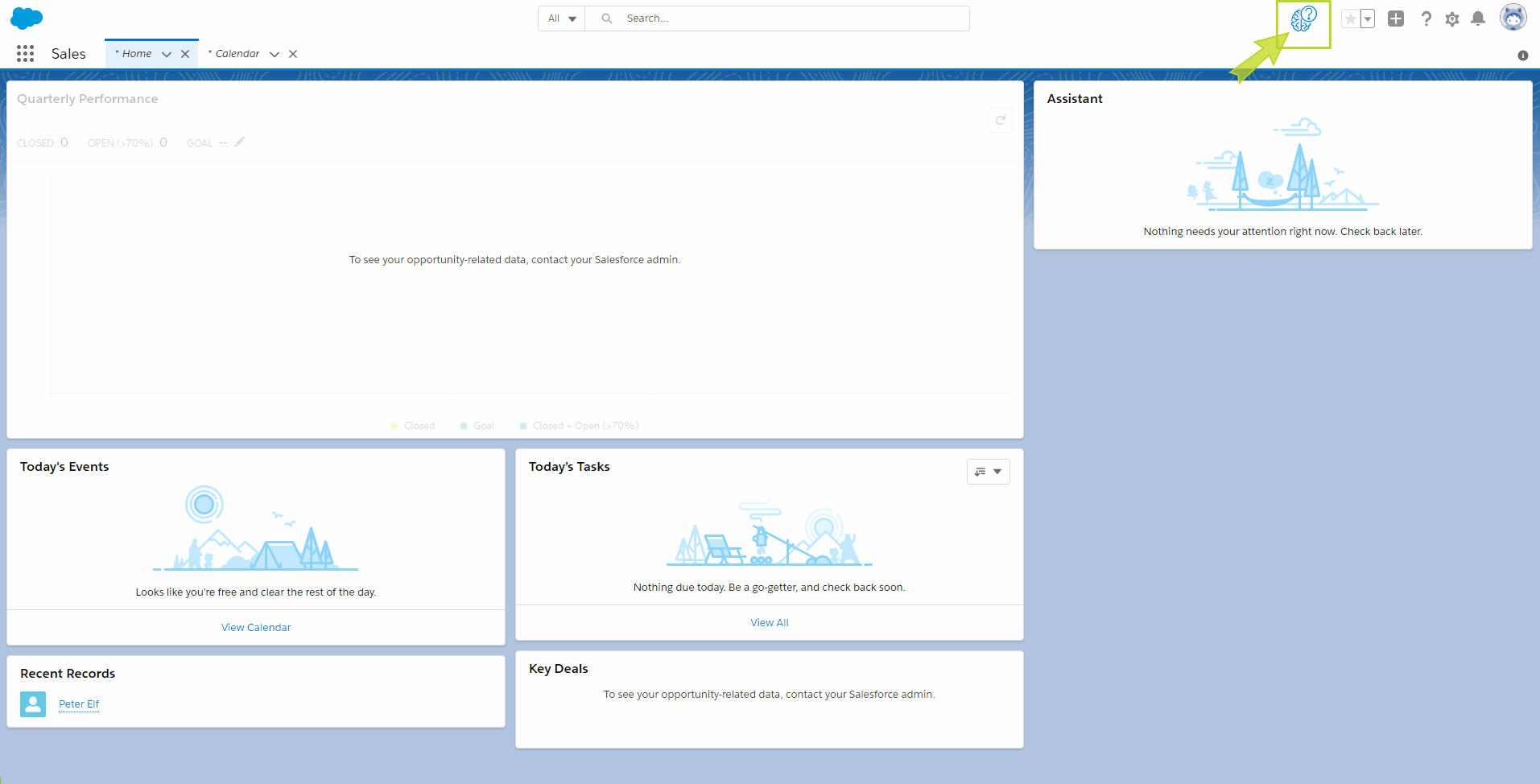 Benefits of using YesElf Digital Adoption Platform for Salesforce®
Embrace Salesforce with YesElf. Salesforce is one of the most complicated and difficult to use software. YesElf is a digital adoption platform for Salesforce that provides personalized, contextual, and predictive step-by-step walkthroughs for Salesforce users based on their role, profile, behavior, previous usage history, and real-time guidance. The goal of YesElf is to automate one of the most painful steps in enterprise software adoption: Getting employees up to speed.
Solve training issues from day one. YesElf's guidance is designed specifically for enterprises that want to maximize their Salesforce training efforts' efficiency.
Our training tools enable users to complete user-centric training sessions – DAPs provide onboarding on-demand, without the hassle of having to open up a book or download PDFs. Directly on the software. You can surely use mock-up training environments if you like, but YesElf's visual walkthroughs actively guide all your users.
This accelerates training effectiveness by up to 50%!
Empower your sales team to understand the customers. With powerful Business Application Insights powered by AI and ML, YesElf helps you know your customer's needs and clarifies what steps have been taken so far and where the application bottlenecks so that you can develop solutions that deliver real value. Hence increases not only the customer experience/satisfaction but also your sales as well.
Reduce support calls. It is never easy to train your employees and get over with it. They will forget fast (up to 70% in a day), and when they need to use the software with the information they received in training, they will call back for support. You can reduce these unnecessary and time-consuming callbacks with YesElf as they will be guided when needed.
Reduce employee frustration and churn. As reported, Salesforce has a steep learning curve that might frustrate and force your employees to quit. This has happened and will probably happen to your company as well. Use YesElf's digital adoption platform to keep your qualified and experienced employees.
Onboards newbies with ease and provide continuous guidance on the application itself to existing users whenever they are in need. This will save you time and money.
eliminates the need for rather costly and ineffective training methods. Each of these steps (user, changes, etc.) can be tracked so that you can continually optimize your app and ensure sustainable productivity.
Speed up software adoption and onboarding so that your sales team can focus on building higher levels of sales and stronger relationships with their customers.
Increase ROI. Our high engagement level improves users' productivity and performance, leading to higher morale, better sales, and an increased return on investment for your company. That's where YesElf comes in! YesElf Digital Adoption Platform helps streamline the integration and usage by providing the tools to process the complex data, automate and simplify all the processes related so that you can get maximum ROI from the new Salesforce.
Flatten the learning curve. Our AI-powered digital adoption platform helps your sales team through the sales process to learn your product, increase their understanding and business needs, and keep abreast of the latest changes to the Salesforce platform.
Consistently understanding. YesElf enables you to understand your customer through AI and ML data. You can act on to ease the pain points, which helps boost the user and employee experience.
Less training. YesElf goes a long way in making sure that you're not wasting your time on training. Make the training process simple. Instead of wasting time in ineffective human-led classroom training, use YesElf's active guides so the users can complete the training session on their computers on the software itself. All the guides will be available to them no matter where they are. Their mission is to inspire productivity by making relevant contextually personalized and predictive self-learning walk-throughs available for every user in every application.
Empower the sales team to operate better. It is not uncommon to see companies learning the hard way by losing revenue due to mismanagement. More often than not, these users, including the sales team, will no longer enjoy the sales journey. In this instance, YesElf will provide you with detailed steps on running sales through a new software release and subsequently deepening your relationship with the sales team. YesElf helps ensure you are in control and provides knowledge to always be in control.
Customizability. One of the most important parts of this platform is its ability to customize multiple training sessions to a user's needs. Having the ability to fully customize training sessions to meet individual users' needs and preferences will provide the best training course. With human associates, YesElf, and all the online training systems will help the entire company gain a competitive edge in its market segment and grow faster.
Find Opportunities to Engage Users. AI and machine learning help enhance the usage of your customers by creating opportunities to engage them. You should consider using new Salesforce features that focus on business transactions to engage your customers as opposed to advertising and surveys.
Insight into the usage pattern of your existing or new applications. (Salesforce Bridges, Windows, Salesforce 360, and many others). YesElf is different from all other Digital Adoption Platforms and gives you insight into your existing or new Salesforce user base. It will enable you to design new applications with a better user experience with higher engagement and profit.
Manage and resolve common pain points. The adoption of digital technologies and processes in small- and medium-sized organizations requires resources that typical companies don't have. It's difficult for them to view the entire process of delivery of new digital solutions. And for the large ones, the data gets siloed and fails to create actionable insights. YesElf reveals the pain points and reduces the number of steps to success, making digital adoption easier for everyone involved.
Improve sales and profitability. Salesforce is a platform that helps you to connect to customers, prospects, and business partners. Salesforce is all about CRM, and CRM is about selling. So the easiest way to increase sales is to empower your sales and marketing teams to use the CRM platform correctly and effectively. This is where YesElf's Business Application Insights comes in handy. BAI displays a holistic picture of Salesforce usage and reveals the bottle-necks, such as time spent, error count, and detected level of confusion.
Increase time-to-competency by automating and streamlining training & support teams, sell more of your product.
Data-driven upselling. Highly engaged end users are often a good sign of upcoming upselling opportunities. Digital marketers need to spend time manually sifting through user data to uncover ideal moments for upselling. YesElf is a customer data-driven digital adoption platform that enables you to know and act on upselling opportunities with high accuracy so you can convert more leads into sales faster.
To summarize
YesElf allows users to utilize Salesforce to the fullest extent and complete the tasks efficiently and effectively. Salesforce Lightning training time is reduced by 60-70% and employees' productivity is increased. YesElf's on-screen, contextual guidance can help during the implementation phase or if you already started using Salesforce, YesElf can accelerate your training by picking up where you left off. Don't waste your company's and the application users' time and resources through complicated applications. Instead, simplify all applications and management with YesElf.
Salesforce training and usage made easy with YesElf
Guides existing users to the fullest potential and effectively onboard newbies.
Eliminate costly and ineffective training programs.
Guide your end-users in real-time
Avoid watching mind-numbing video tutorials or hard-to-read software manuals.
Create engaging tooltips
Reduce the likelihood of errors made by your employees.
Analytics on usage helps you to identify the bottlenecks or pain points and provide actionable insights.