What is Microsoft Dynamics 365?
Microsoft Dynamics 365 is a cloud-based business application platform that combines Customer Relationship Management (CRM) and Enterprise Resource Planning (ERP) components and productivity applications and artificial intelligence tools. 
Microsoft Dynamics 365 offers enterprises a solid foundation to support their business needs and allows organizations to leverage the cloud's power. It is designed to help to enable a more dynamic, flexible, and strategic workforce. The solution delivers a complete set of functionality needed to manage a whole range of processes from sales, marketing, customer service, and finance to human resources, supply chain, logistics, property management, sales operation, and more.
Microsoft Dynamics 365 helps companies streamline and automate critical processes such as sales, customer service, procurement, payroll, and operations to bring value to the business. Microsoft Dynamics 365 brings real-time insights, process automation, and customizable mobile solutions needed to improve overall performance and boost productivity across all business areas.
The Challenges
Although MS Dynamics 365 has excellent features, mentioned above, it also has some common obstacles that are preventing or, better said, slowing down the adoption process. Some of the primary challenges organizations face:
Provide Employees with Quality Resources: You should provide your employees with adequate training to effectively use the system. There are a lot of tools you can use to aid the training process. However, none can match the cost-effectiveness/efficiency ratio provided by a Digital Adoption Platform as the benefits noted below.
No One-Size-Fits-All Approach: Because these tools are all unique, each has its own set of challenges. From our experience, we can tell that the biggest challenge for all 26 Microsoft Dynamics 365 applications would be; acclimatizing, especially if your users are new to SaaS cloud services. It can be overwhelming in some cases it is the single biggest reason for high employee frustration and churn rates. Because of its intuitive user interface, most people feel comfortable with Dynamics 365 from the very beginning. However, that does not guarantee the practical usage of the application by all the users. There still be a certain percentage of your employees who will struggle to use it properly and need guidance and support to use it effectively (and not all will actively seek help or guidance). A digital adoption platform's continuous and contextual guides help those users in need. 
The necessity of Re-training: Because each user has his or her own background, skillset, and skills in the domain he or she operates on, a new package and content of software or a new version of the software require additional training for the user. Depending on the software's actual features, time for the training session, expected outcome and complexity of the session, and the cost factor. As the corporate leader manager, you should prepare the environment where all of the users will reliably use the software you deploy and configure it in a way that suits them.
Learning Curve: By nature, these tools are unique and require a significant amount of user training. This can result in headaches and frustration while also leaving organizations with an inaccurate set of results. By employing a knowledge-based, interactive experience with YesElf, you'll be able to speed up digital adoption and adoption of any MS Dynamics 365 product.
Resistance to change: According to a report made by McKinsey (July 2008, McKinsey Quarterly), most employees are not willing to, on the contrary, resisting change to the new technology rolled out by their organization. Even after more than a decade past over the trend is valid today and can be observed in any sector where the users are forced to use a new software because it takes them out of their comfort zone.
Strategic Uncertainty: Organizations have a strong vested interest in creating a digital presence, but do not know the best solutions to meet their needs. This is also true using these tools. Hence, it entails a change of mindset from a "business-as-usual" approach to using technology in a much more proactive way.
Overly Anticipated Costs: To get the most value from these tools, organizations must continually invest in them. The expectation that these tools will offer a one-stop-shop of all their documents, help-desk tickets, sales analytics, and customer profiles requires businesses to spend time and resources to achieve real business value.YesElf offers insights into Microsoft Dynamics 365 adoption by geography,  end-user, application usage, feature adoption, error profile, user time spent.
Slow Digital Adoption. As the companies go ahead in their digital transformation journeys, they are increasingly investing in their enterprise applications. Regardless of the company's software option, all of them are challenged with slow user adoption of these tools with the steep initial learning curve and user resistance to change due to the complexity of customization and updates rolled out at a steady pace adoption among forward-thinking enterprises. 
Read about: The greatest threat to CRM systems is the slow adaptation.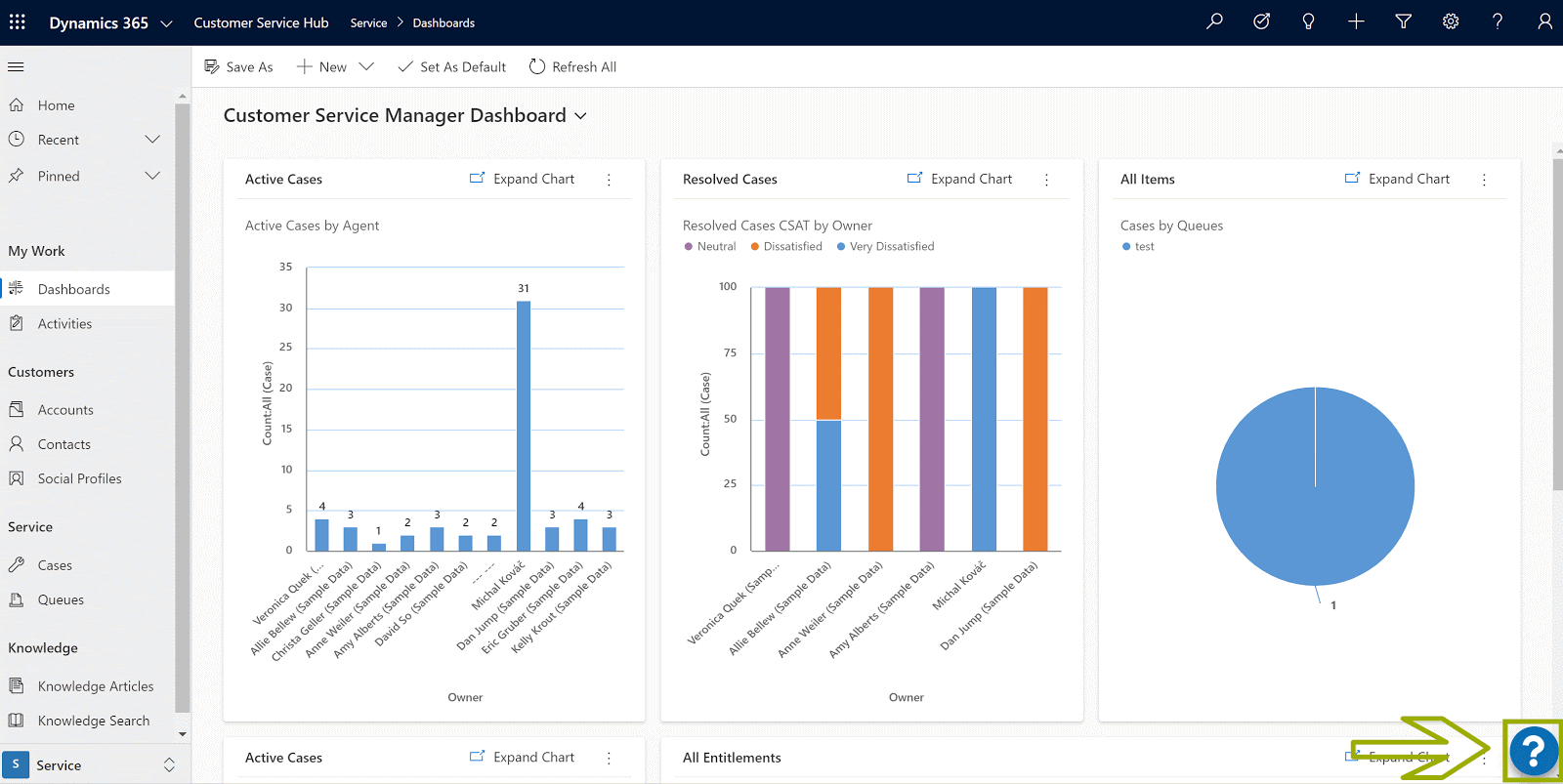 Benefits of utilizing YesElf Digital Adoption Platform for Microsoft Dynamics 365 Applications
Easy Integration

. YesElf's full integration with Microsoft Dynamics enables your sales team to get all the benefits that YesElf offers. YesElf is 100% compatible with Microsoft Dynamics, meaning that you can not only integrate YesElf directly into your without any custom coding but also get a faster start due to pre-prepared guides.

With YesElf for Microsoft Dynamics, you can help your customers transform sales and service, increasing engagement and employee happiness while maximizing the effectiveness.

With YesElf, you will easily create interactive, on-screen walkthroughs that will guide and engage all users on all Microsoft Dynamics 365 applications with ease.

AI-powered guide recommendation.

YesElf's AI recognizes the confused users and ensures that the right users receive the most accurate guidance in the time of need.

Improved Vendor Relationship Management

. Microsoft Dynamics CRM software is the backbone of many companies' sales and production systems. The entry barrier is shallow, and many vendors don't invest heavily in vendor-specific training for their products. By using YesElf with Microsoft Dynamics, you're reducing the need for vendor-specific training, which frees up your staff to build relationships with your customers.

Effective Reporting.

YesElf's robust reporting capabilities allow you to capture sales activity and leverage it in Microsoft Dynamics' internal reporting. 
On top of all the benefits, what you will get by using the Microsoft Dynamics Applications is YesElf's user engagement, error count, and activity time metrics-based reports will help you to measure the Return on Investment (ROI) and ensure the highest returns. 
Read about: YesElf Business Application Insights
Flexible and versatile

. One of the coolest features of YesElf is the ability to quickly create step-by-step guidance on websites for any web app without the need for programming skills making it flexible and versatile to work not only for MS Dynamics 365 but also any other web app your company owns. 

"YesElf is great for customers who are either looking for something to help me get organized or make my sales team more productive," as reported by

many VP of sales

of our current customers. "The report templates and data validation functions are amazing. It was a breeze to start to use YesElf, and the system works great. It has also given my sales team better feedback on their pitches without needing a live salesperson to walk them through it."
Read more: Success stories
Flatten the learning curve

for your newbies who are yet to work with any CRM or ERP application. It can teach and help new users from start to end. 

Effective re-training for existing users

. This topic is covered under

change management,

where the companies' staff turnover rate is relatively not very high, so the need to retain the existing users has more importance than the newbies. There is always a need re-train your users so they can keep up with the changes. Microsoft 365 Apps are updated on an average of

once a month

.

And taking the users off of the production floor for re-training is not a cost-friendly approach. You can conveniently and effectively use the YesElf Digital Adoption Platform for change management and measure its effectiveness via various internal and on-demand reports available. 
Read about: Business Application Analytics  
Rarely used features

: Human forgets. As it is never learn-once and uses it when needed, the rarely used features of the application (such as quarterly reports, …) will require a brush-up on the knowledge even by the experienced users. As YesElf's guides will always be at your users' disposal whenever they need, this another excellent resource for users to repeat the process of digital adoption.
Effective Onboarding:

Every software needs an onboarding period on varying levels depending on the user's tech-savviness levels.  YesElf empowers organizations to do exactly that by enabling them to set up their first online digital system within a matter of minutes. It helps in onboarding new users to improve productivity and reduce the employee turnover rate.
Read about: 6 most common user onboarding mistakes.
Reduced Adoption Time:

There is a certain time period in which the employee is still not productive because he is learning. This is called adoption time. The goal of every company is to shorten the adoption time to the minimum value possible, which can be easily be achieved by using YesElf's personalized step-by-step guidance that will guide users on all the key areas of the program. But sometimes, companies are still required to train new employees even before they start working on the platform. This usually happens when the employees are switched from a legacy CRM or ERP to a more modernized one like Microsoft Dynamics 365. During this time, a new employee needs to be trained on how to use the new system and the application as well as how to use the key Microsoft 365 functionalities.
YesElf Digital Adoption Platform can be deployed on, regardless of the type of digital adoption strategy your company has in mind.
In a nutshell
The application is one of the cheapest and fastest-growing Software-as-a-Service (SaaS) alternatives in the industry that helps its users cut down expenses and take care of business development and accounting teams with their tasks started with an organization and digital adoption.
Request a personalized version of the  YesElf Digital Adoption Platform and test all of its features for a month not just on MS Dynamics 365 but also on any web-based application.