New workers are like a sponge – ready to absorb new information and knowledge required for their jobs. Professional staff training is one of the crucial steps of the employment. Fortunately, companies realize its value and invest three times more in the staff training than before.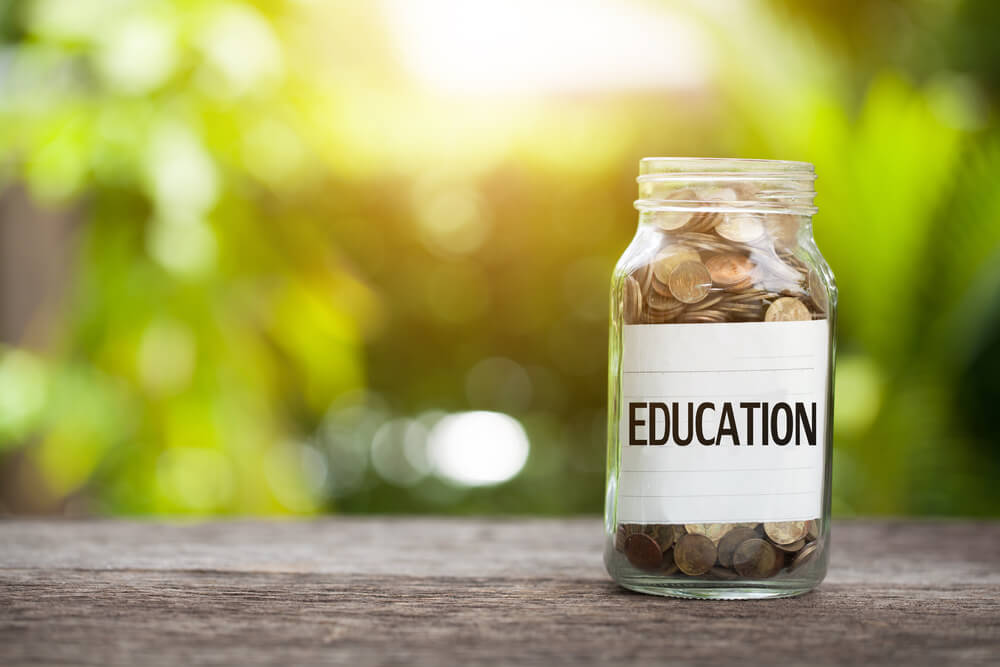 Staff education is growing in importance
Boosting your staff's qualification is no longer just a formality, starting with initial training and followed by one-day, large-group session. Various surveys found out that both companies and employees focus on training.
One of the crucial criteria for millennials to pick a job is the build-up of experience. In some cases, this even surpasses the remuneration.
The staff training costs €900,000 per year
The importance of staff training is underscored by the rapidly increased average staff training costs in the recent time as suggested in the Training Magazine issue published in 2017.
The data shows that the staff training constitutes a strategic part of the business and a huge opportunity for the staff to grow and for you to earn the staff's loyalty.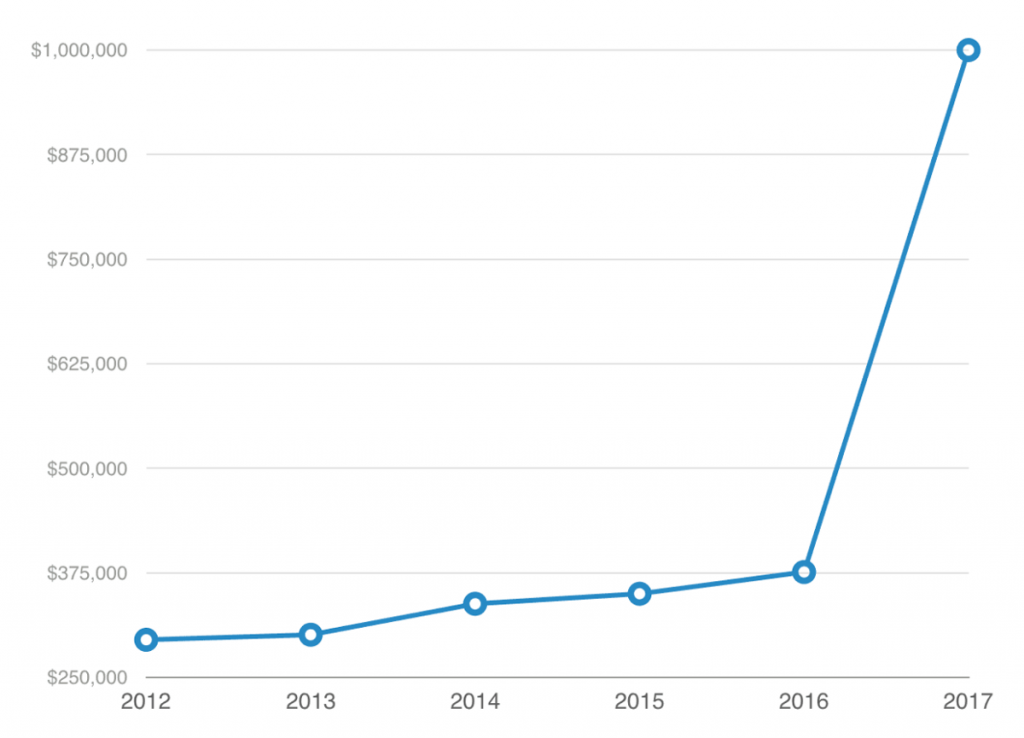 25% of the budget dedicated to training tools
The figure is quite extensive as these costs concern enterprises from 100 to 1,000 employees. Where does this almost one million dollars land? It depends on the type and field of the enterprise, however, the data and training costs allocation in the Training Magazine are relevant for general use.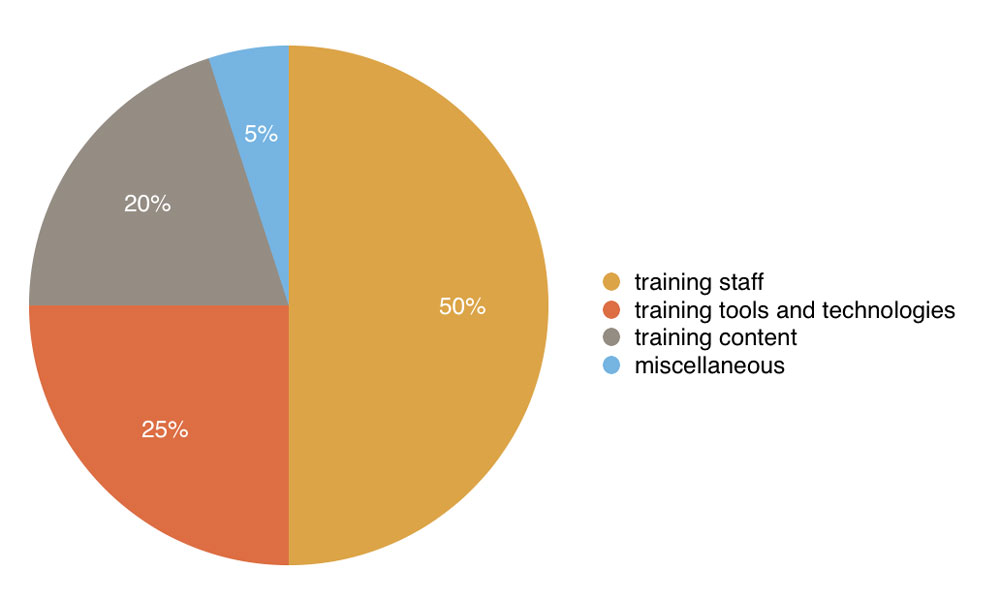 The largest portion goes to the human resources for training, i.e. the lecturers and trainers. In order to determine the actual value you also need to consider if you train your employees in-house or hire a professional trainer.
Another significant part of the budget ($250,000 per year on average) is invested in training tools and technologies. These range from educational platforms, various online courses, learning management systems to learning devices, such as computers, projectors, or whiteboards.
This category includes the purchase as well as the maintenance and update costs. The preparation of the learning content is also an important part and amounts to $200,000 per year (20% of the budget).
The benefits of digital learning systems are low purchase and operational costs as well as easy content updates.
When forecasting the staff training budget don't forget the travel and catering costs as well as room rental costs.
A modern company requires modern training methods
One-to-one and large-group trainings go without saying but they should not be your only method of staff training. The most effective training method was proved to be the blended learning (a combination of one-to-one and large-group trainings) which is preferred by 42% of small enterprises.
When it comes to conventional learning methods, the best practices also include social learning which basically proposes that new behaviors can be acquired by observing and imitating other, more-experienced workers.
The 70-20-10 model suggests that 20% of our knowledge comes from feedback and working with other people. The poor scalability, measurability, control, and evaluation of the social learning may, however, be discouraging.
A great supplement or secondary method for staff training is digital technologies, such as online sessions, instructional videos, webinars, e-learning systems, or platforms for acquisition of digital skills which are growing in popularity. You might ask what these big words mean.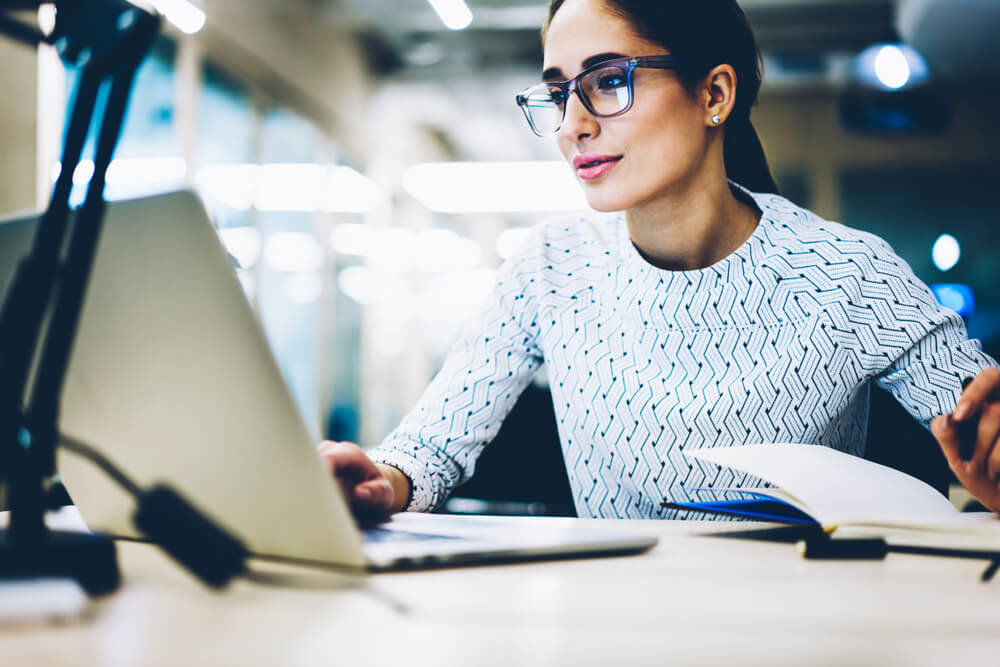 Such platforms help employees adapt to a software used on a daily basis. In even simpler terms, it is a guide with context help for users, showing them how to work with a specific software in real time so they do not have to go to any large-group or one-to-one trainings. 
One of the benefits of such a solution is its high relevance (i.e. employees receive relevant information in the right time and at the right place), quick and easy content modifications (i.e. lower content update costs), and immediate measurability.
The employer or superior can easily find out if an employee completed the training program and what level did he or she achieved. The possibilities for further use of the platform have no limits. After all, you can read more in one of our previous articles.